The SolarEye Platform is a high-performance Web 2.0 platform that is provided from dedicated servers in Europe. It is accessible directly over the Web through standard desktops, smart phones and tablet devices.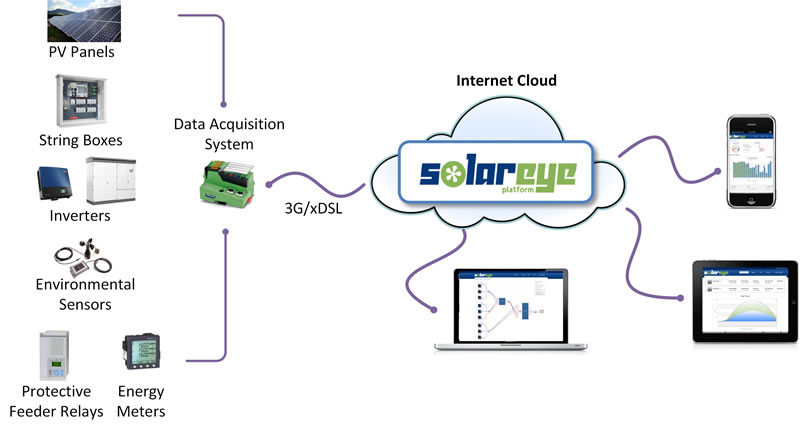 Data Logger Support
The SolarEye Platform is compatible with third party data loggers and sensors:
Carlo Gavazzi Eos-Box
MeteoControl Web'log
Papendorf SOL.Connect Center
Solar-Log (200, 250, 300, 500, 1000, 1200, 1900, 2000)
Solar-Log Base (15, 100, 2000)
Solar Monitor 2 (Basic, Start, 60, 300, 1000)
Solar Monitor 3 (Basic, Start, 60, 300, 1000)
WebdynSun
ABB / Power-One EVO
Advanced Energy / Refusol / Siemens
Danfoss
DIEHL Platinum WebMaster
FIMER
Fronius Datalogger Web / Datamanager
HUAWEI SmartLogger
KACO Powador-proLOG
Kostal Data Logger
Schneider PowerLogic EGX300
SMA WebBox (v1, v2)
SMA Data Manager M / Cluster Controller
Solarmax MaxWeb
Sungrow Logger 1000
No extra equipment is required when a compatible data logger is already installed!
Inverter Support
| | Solar-Log | SolarMonitor 2 / 3 | WebdynSun | MeteoControl Web'log | Carlo Gavazzi |
| --- | --- | --- | --- | --- | --- |
| | | | | | |
| | | | | | |
| | | | | | |
| | | | | | |
| | | | | | |
| | | | | | |
| | | | | | |
| | | | | | |
| | | | | | |
| | | | | | |
| | | | | | |
| | | | | | |
| | | | | | |
| | | | | | |
| | | | | | |
| | | | | | |
| | | | | | |
| | | | | | |
| | | | | | |
| | | | | | |
| | | | | | |
| | | | | | |
| | | | | | |
| | | | | | |
| | | | | | |
| | | | | | |
| | | | | | |
| | | | | | |
| | | | | | |
| | | | | | |
| | | | | | |
| | | | | | |
| | | | | | |
| | | | | | |
| | | | | | |
| | | | | | |
| | | | | | |
| | | | | | |
| | | | | | |
| | | | | | |
| | | | | | |
| | | | | | |
| | | | | | |
| | | | | | |
| | | | | | |
| | | | | | |
| | | | | | |
| | | | | | |
| | | | | | |
| | | | | | |
| | | | | | |
| | | | | | |
| | | | | | |
| | | | | | |
| | | | | | |
| | | | | | |
| | | | | | |
| | | | | | |
| | | | | | |
| | | | | | |
| | | | | | |
| | | | | | |
| | | | | | |
| | | | | | |
| | | | | | |
| | | | | | |
| | | | | | |
| | | | | | |
| | | | | | |
| | | | | | |
| | | | | | |
| | | | | | |
| | | | | | |
| | | | | | |
| | | | | | |
| | | | | | |
| | | | | | |
| | | | | | |
| | | | | | |
| | | | | | |
| | | | | | |
| | | | | | |
| | | | | | |
| | | | | | |
| | | | | | |
| | | | | | |